6th JAZZING-FESTIVAL DE JAZZ DE SANT ANDREU & JAZZ EDUCATIONAL STAGE
THE PRESENT, TODAY, NOW is all we have. That is why we should live it, or try it, with passion, love, respect, honesty, being aware that the way we live today will change our tomorrow and that our actions have repercussions on our environment. To make our lives the history we want them to be, because each moment is unique, unrepeatable, like every pupil, every class, every rehearsal or every concert...

This is my philosophy of life and my way of approaching teaching.
It is very important the methodology in the learning of the music in the children so that they can feel from the first moment that the music forms part of their lives and that it contributes something positive to them.
From many parts of the world they ask me to explain my work with the Sant Andreu Jazz Band and I have done so in Stanford, Mexico DC, Marciac, Medellin, Vigliano Biellese, Stockholm and many other cities both outside and inside the country.
This is the reason why the JAZZ EDUCATION STAGE has born as part of the Jazzing Festival. Four days of immersion in our philosophy and methodology, with concerts, jam sessions, debates, classes, paejazzing, lindy hop... We will enjoy wonderful musicians who have come specifically to share their music and experience with us.
This first JAZZ EDUCATION STAGE coincides with the sixth edition of the Jazzing Festival and the 13 years of the SANT ANDREU JAZZ BAND and we are very happy about it.

The important thing is the way, not the goal. Do you want to walk with us?
Joan Chamorro
Events available: 6
Subscriptions available: 2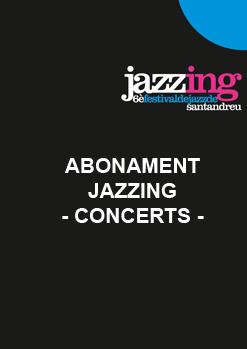 ABONAMENT JAZZING - CONCERTS -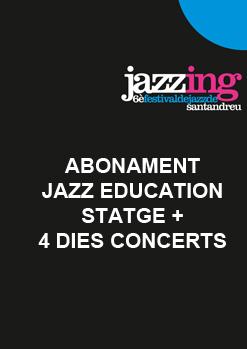 ABONAMENT JAZZ EDUCATION STAGE + 4 DIES CONCERTS
JAZZ EDUCATION STAGE
05 Sep 2019 | 10:00h
in FABRA I COATS - FÀBRICA DE CREACIÓ DE BARCELONA (BARCELONA)
GERARD NIETO TRIO | MARTI SERRA QUARTET | IRENE REIG & THE BOP COLLECTIVE
05 Sep 2019 | 21:00h
in FABRA I COATS - FÀBRICA DE CREACIÓ DE BARCELONA (BARCELONA)
CODINA - SAUQUÉ-QUINTESSENCE | JOAN CHAMORRO SAXOPHONE MOSAIC
06 Sep 2019 | 21:00h
in FABRA I COATS - FÀBRICA DE CREACIÓ DE BARCELONA (BARCELONA)
PAEJAZZING
07 Sep 2019 | 14:00h
in FABRA I COATS - FÀBRICA DE CREACIÓ DE BARCELONA (BARCELONA)
LIVE RECORDING SESSION JAN DOMENECH & JOANA CASANOVA
07 Sep 2019 | 21:00h
in FABRA I COATS - FÀBRICA DE CREACIÓ DE BARCELONA (BARCELONA)
CLOSSING JAZZING amb la SANT ANDREU JAZZ BAND &FRIENDS | TRIBUTE TO CLIFFORD BROWN & DEXTER GORDON
08 Sep 2019 | 19:30h
in FABRA I COATS - FÀBRICA DE CREACIÓ DE BARCELONA (BARCELONA)