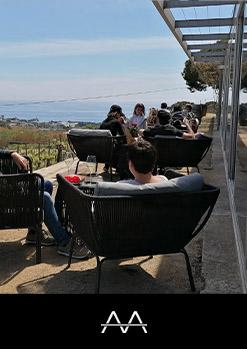 WINE BAR - APERITIF AMONGST THE VINEYARDS WITH SAXFANMUSIC
Wine Bar
ALTA ALELLA - Camí Baix de Tiana, s/n
08328 ALELLA, BARCELONA, ES
Show map
We open our terraces for the #AmicsAltaAlella who want to have an aperitif between vineyards with sea views! Ideal for couples, friends and families who want to enjoy a Maresme-branded snack!
Alta Alella invites winelovers to relax in an idyllic location, the terrace of the Wine Tourism Center located in the middle of the vineyards overlooking the Mediterranean. A proposal to enter the heart of the Serralada de Marina Natural Park and enjoy the essentials: nature, landscape, sea breeze, good company, WINE and CAVA!
You can enjoy an aperitif with the SAXFANMUSIC group on the terrace of the Wine Tourism Center. Saxfanmusic is a duo consisting of a live saxophone with over 25 years of experience and a DJ playing groovy, jazzy, chill out and lounge electronic music. The show takes us on a journey through time from the music of the 80's to the present day. A perfect cocktail for music & wine lovers.
TIME: from 12 noon to 2 pm
PLACE: Terrace of the Wine Tourism Center (in case of rain or bad weather, we will do the event inside the center)
ADDRESS: Camí Baix de Tiana s / n, 08328
PRICE: 15 € / person *
* Includes table reservation on the terrace and welcome snack pack: 1 glass of wine or cava + 1 serving of Coromina Potatoes, olives and Espinaler preserves (for every two people)
Additional drinks or food will be paid on site.
· LIMITED CAPACITY - ESSENTIAL BOOKING required ·
Info: +34 628.624.182 visita@altaalella.wine
Rate
Price
Quantity
Total
Rate (*

SOLD OUT

{{linea.comentario}}

)
Price
Price
Price
Quantity
Total
Fees
Total
Promotions available
Discount code
{{promo.nombre}}
{{promo.errorPromoMensaje}}
Go back
Establishing your reservation